(10) 2017.11 A new paper " Stable ICG-loaded upconversion nanoparticles: silica core/shell theranostic nanoplatform for dual-modal upconversion and photoacoustic imaging together with photothermal therapy" published in "Scientific Reports" (IF: 4.26). Lv Ruichan, Wang Depeng, Xiao Liyang, Chen Guanying, Xia Jun, Paras N. Prasad. 2017. DOI: 10.1038/s41598-017-16016-x
(9) 2017.10 A new paper "Dopamine-mediated photothermal theranostics combined with up-conversion platform under near infrared light" published in "Scientific Reports" (IF: 4.26), Lv Ruichan, Yang Piaoping, Chen Guanying, Gai Shili, Xu Jiating, Paras N. Prasad. 2017. 7: 13562
(8) Oral presentation 2017.05.13 Lv Ruichan participated in the "2017 Humboldt Kolleg on Smart Materials: From Molecules to Engineering" (Beijing), and made an oral presentation named "Rare Earth Based Mesoprous Materials for Theranostics".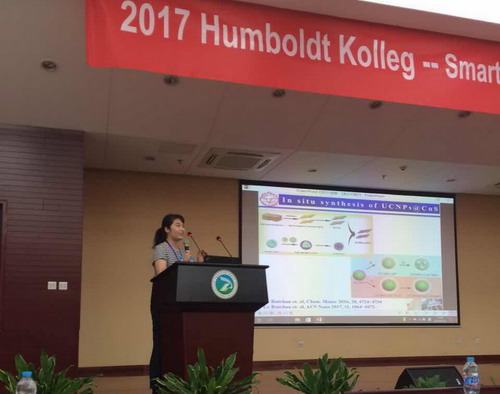 (7) 2017.05.03 Lv Ruichan finished the postdoc work with Prof. Wolfgang J. Parak, and came back to Xidian University.
(2017-03-20) 招生已截止
(2017-03-19) 暂有一名招生名额。
主要进行无机材料的合成、生物成像。
1. 纳米材料的设计制备及表面修饰;
2. 纳米材料的光学性能研究;
3. 肿瘤治疗、生物成像等;
化学、生物方向的学生欢迎报考。 有意者联系 rclv@xidian.edu.cn
(6) 2017.02 A new paper!! "In Situ Growth Strategy to Integrate Up-Conversion Nanoparticles with Ultrasmall CuS for Photothermal Theranostics" published in "ACS Nano" (IF: 13.33). 2017, 11, (1), 1064-1072.
(5) 2016.10 Lv Ruichan finished the postdoc with Prof. Paras N. Prasad in ILPB (SUNY at buffalo).
(4) (Oral) Highly stable upconversion imaging guided photothermal therapy inspired by transferred dopamine under single NIR light, 8th annual postdoc research research symposium, Buffalo, June 10, 2016.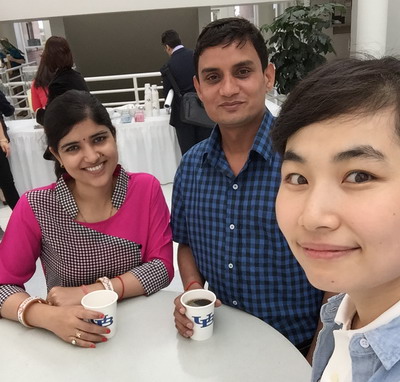 (3) (Poster) A Yolk-like Multifunctional Platform for Multimodal Imaging and Synergistic Therapy Triggered by a Single Near-Infrared Light , China Nanomedicine 2015, Hangzhou, April 6-9, 2015.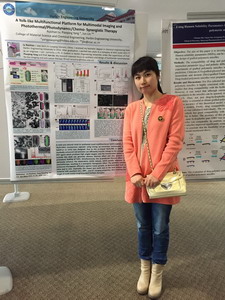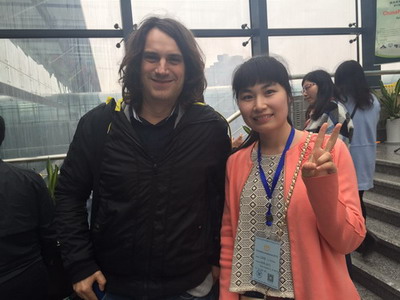 Philipps-Universität Marburg: Prof. Wolfgang J. Parak
(2) (Poster) Lutecium Fluoride Hollow Mesoporous Spheres with Enhanced Up-Conversion Luminescent Bioimaging and Light-Triggered Drug Release by Gold Nanocrystals, Phosphor Safari 2014, Kunming, November 8-10, 2014.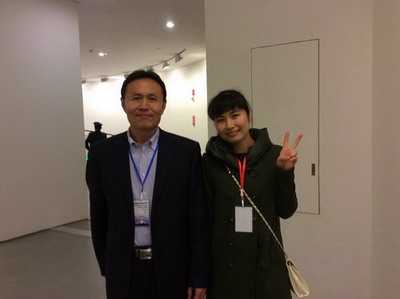 CIAC researcher: Jun Lin
(1) (Poster) Surfactant-Free Synthesis, Luminescent Properties, and Drug-Release Properties of LaF3 and LaCO3F Hollow Microspheres, 29th Annual Seminar Chinese Chemical Society, Beijing, August 4-7, 2014.