12th International conference series on
Laser-Light and Interactions with Particles (LIP)
March 5th-9th, 2018, in College Station, Texas, USA
For the first time in the history of the two conference series, the LIP-2018 and its sister-conference, the ELS-XVII, will be be held jointly in the same year. The LIP-2018 will include keynote lectures, oral sessions, and a poster session. The conference will begin with a full day of keynote lectures on Monday, which are held as joint plenary sessions for both LIP and ELS attendees. Likewise, the poster session, coffee breaks, and all social events are shared events. Regular oral sessions on the other hand are organized as parallel sessions, still accessible to all participants, but at any given time an LIP talk and an ELS talk will be held separately in different locations.
Up-date:
The near-final joint program of the ELS-XVII and LIP2018 conferences is available here.
The deadline of abstract submission has been extended to January 21, 2018
As a major sports event will take place at the same time as the conference, the organizers strongly encourage all participants to take care of their Accommodation as early as possible! (The reversation can be cancelled three days before the deadline if you can not come for other reasons)
Important Dates
Conference Date:

March 5th - 9th, 2018

Abstract submission opens:

August 14th, 2017

Abstract submission closes after: December 21st, 2017

Late registration after: January 31st, 2018
Abstract Submission
---
Please use the LIP2018 Word and Excel templates provided below for your submission.
Please submit an extended abstract, which MUST have more than 2 pages and a minimum of 1500 words for a regular contribution. Abstracts that donot conform with the official LIP2018 template will not be accepted.
Please provide an abstract that is ready for direct publication in the LIP-2018 book ofabstracts, i.e. that is free of language and formating issues. In the excel file, put all details that are necessary for the evaluation process.
---
Please rename and send your documents to the following email address:
lip2018-abstracts@tamu.edu
by specifying thepreferred format for the presentation: Oral, Poster, Arbitrary.
Please adhere to the following convention when renaming the abstract files you intend to submit:
(Given Name)_(FirstName)_(Preferred format)_(Number)_Extended_Abstract_LIP2018.docx
(Given Name)_(FirstName)_(Preferred format)_(Number)_Extended_Abstract_details_LIP2018.xls
The (Number) specifier should only be used in case the corresponding author intends to submit multiple abstracts (i.e. 1,2,3,...).
Extended_Abtract_template_v2.docx
Submission_Details_Template.xlsx
Registration
The direct link to the registration portal is the following:
https://events.tamu.edu/EmsRegics/LIP2018
(This direct link is also accessible from countries with certain restrictions on specific web services such as Google.)
Note that the LIP-2018 conference will be organized in parallel with the Electromagnetic and Light Scattering Conference (ELS-XVII) and the registration process for both ELS and LIP participants is identical.
---
For the conference registration, the following rates will apply:
| | Early | Late |
| --- | --- | --- |
| Academics & Industry | 350 US dollars | 400 US dollars |
| Graduate Students | 180 US dollars | 220 US dollars |
| Accompanying | 70 US dollars | 110 US dollars |
For the conference registration, the following rates will apply:
The registration fee includes the cost for the welcome reception, all coffee breaks, and the conference banquet.
More information on the registration can be found under: https://sites.google.com/a/tamu.edu/lip2018/registration
Accommodation
As a major sports event will also take place during the same week as the LIP2018 and ELS-XVII conferences, the organisers strongly encourage all participants to manage their accommodation as early as possible. While there will be hotel spaces available in the wider Bryan/College Station area, rooms close to the Texas A&M University will fill up quickly. There is no penalty for cancelling a hotel reservation in B/CS until two days before arrival, so it is advisable to make a hotel reservation now, even if you may later decide, not to attend the conference.
The following hotels will provide reduced rates for LIP and ELS conference participants upon request and as long as the limited spaces are available:
To get around town, the following options exist in Bryan/College Station:
A Hotel shuttle service is available from The Stella, Cavalry Court, The George, and The Hilton.
The conference venue can be reached after a brisk walk from the following hotels: Cavalry Court, The George, and the Four Points.
For a list of available Taxi services and car rental companies, please check the corresponding homepage of Easterwood airport.

Bicycles

can be rented at a university bicycle station.

Uber

services are available and frequently used in B/CS.

There is

no public transportation

. Busses are available to TAMU students only.
Keynote Lectures
A full day of plenary sessions is scheduled for Monday, March 5th, 2018,where participants of both the LIP2018 and ELS-XVII conferences will be able to attend the lectures of the following invited KEYNOTE SPEAKERS:
| | | |
| --- | --- | --- |
| Speakers | Affiliation | Title |
| Marlan Scully | Physics and Astronomy, Texas A&M | TBA |
| Lihong V. Wang | Caltech Optical Imaging Laboratory | Photoacoustic tomography: omniscale imaging in scattering media from organelles to patients |
| Philip H. Jones and Onofrio Marago | University College London & Italian National Research Council | Optical forces and applications |
| Brian Cairns | NASA GISS | TBA |
| Mathieu Francoeur | Radiative Energy Transfer Lab, Dept. of Mechanical Engineering, Univ. of Utah | Fluctuation electrodynamics and near-field thermal radiation |
| Oleg Dubovik | French National Centre for Scientific Research | Solving inverse problems of light scattering: Sensitivity tendencies in remote sensing of atmospheric particles |
| Alexei Sokolov | Physics and Astronomy, Texas A&M | TBA |
| Jiajie Wang | School of Physics and Optoelectronic Engineering, Xidian University | Structured light interaction with small particles: GLMT and EBCM theoretical treatments |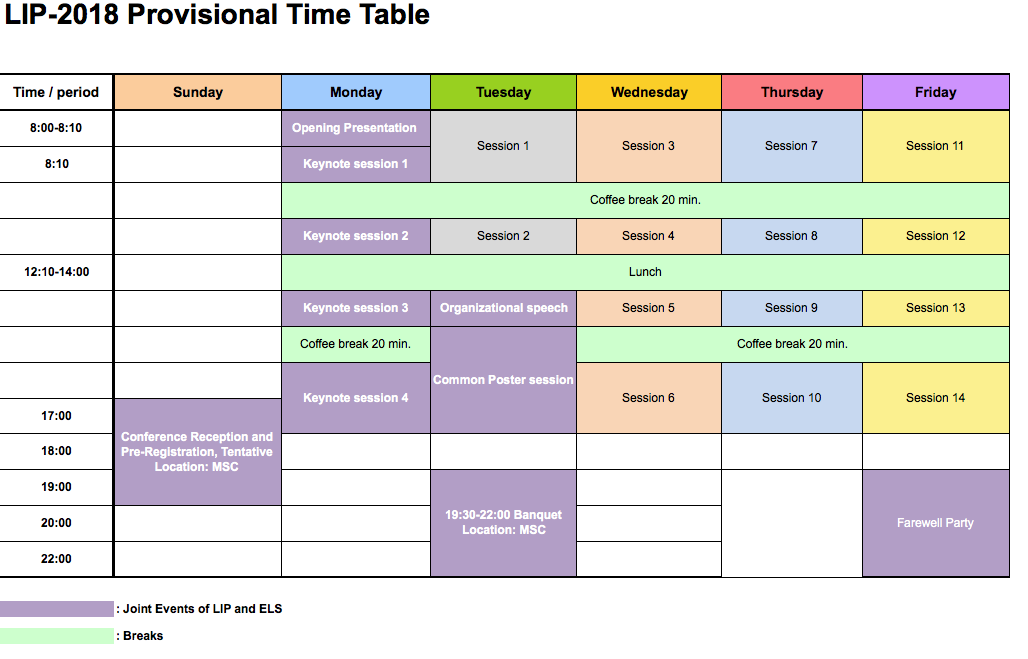 Conference Venue
The LIP-2018 conference will take place in the Memorial Student Center of the Texas A&M University.